TESSA GILLARD
1930 – 1984
and the
THEATRE
She was a wonderful actress, who could have gone anywhere, if she had been so inclined. She won many awards for both her acting, and directing.
<![if !vml]><![endif]>

My mum, Tessa Gillard, was born in Port Isaac, Cornwall, in England, 1930. She lived most of her childhood, and young adulthood in Seaton, Devon. She married my dad, Bill, the Jazz musician (skilly a wawa) in 1948. They had three children, and in 1957, moved to Canada, where I was born.

She became interested in Drama at an early age, even being invited to join Stratford on Avon, in England, at fifteen. My Irish Granny said, "Not before hell freezes over!"

In Canada, she was very active in K.W. Little Theatre, from the moment she arrived, until a few years before her death, in 1984.
I will attempt to list as many plays as I can that she was involved with...may take awhile.
Pictures below.
PLAY

YEAR

ROLE

VENUE

EXTRAS & AWARDS

Life With Father

1957

Kitchener-Waterloo

Little Theatre (KWLT)

Tessa's first play with KWLT, first play in Canada.

Time out for Ginger

1957

.

KWLT

.

Life With Mother

1958

KWLT

The Diary of Anne Frank

1959

KWLT

Best Actress in a studio production. W.O.D.L.

W.O.D.L = Western Ontario Drama League

The Great Sebastions

1960

Essie

KWLT

Best Actress in a major production. W.O.D.L.

The Ottawa Man

1960-61

. Director

KWLT

Best Directed play in a studio production W.O.D.L.

.Look Homeward Angel

1962

.

KWLT

This Happy Breed

1962

Director

KWLT

She Stoops to Conquer

. 1962.

.

KWLT

.

Antigone

Antigone

KWLT

.

Will Any Gentleman?

1965

Director

KWLT

.

Take Her She's Mine

.

.

KWLT

.

Breakfast of Diamonds

1967

Director

KWLT

.

No Exit

1969

Inez

KWLT

Best actress in a major production W.O.D.L.

The Marquis

.

.

University of Waterloo (UofW)

.

Shadow of a Pale Horse

1970

.

Tempo Theatre

(KWLT)

Best Supporting Actress W.O.D.L.

A Taste of Honey

1973

Director

U of W

The Gingerbread Lady

.

.

KWLT

Best Actress in a supporting role W.O.D.L..

The Patrick Pearce Motel

1975

KWLT

And Miss Reardon Drinks a Little

1976

Helen

KWLT

Best Director W.O.D.L

Relatively Speaking

1977

Sheila

KWLT
Some plays, some pictures, some narrative by Ron Bender.
LIFE WITH FATHER
1957
<![if !vml]>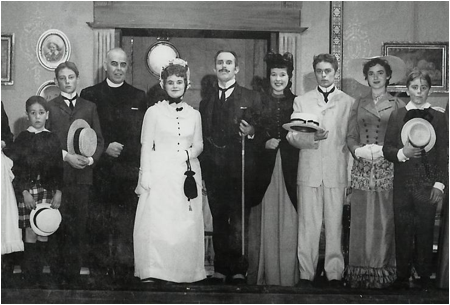 <![endif]>
RON BENDER:_ Tessa is 4th from the right. I am 3rd from the right. In this one, I'm a redhead! The girl playing Mother was Marguerite Boardman (white dress, black handbag) is actually MY age...we were in the same classes at St. Louis Separate School in Waterloo, and get this...I had a crush on her for years but, I was too shy to pursue it…and she gets to play my MOTHER!! Ironic...huh!! We all had to be redheads and have our hair sprayed red for every performance...except for the boy at the right far end...He actually WAS a redhead, but not the same colour, so...yup, they sprayed him too!_ This was Tessa's first play with KWLT, and my 2nd._ I don't have any picturess of my first play which was "The Petrified Forest"_ I played a black chauffeur (yup!)...and spent most of the play under the table wailing "Holy Lord...oh Holy Lord.!!..
LIFE WITH MOTHER
1958
<![if !vml]>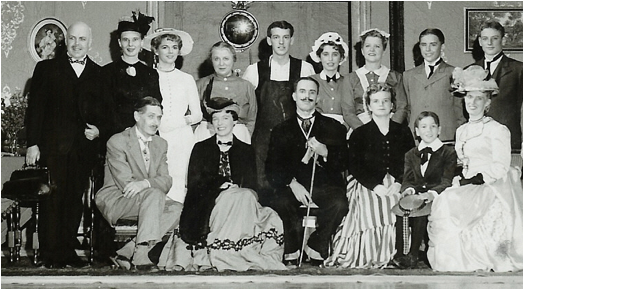 <![endif]>
Tessa, second from left, front row._ Ron Bender, far right, back row.
THE GREAT SEBASTIANS
1960
<![if !vml]>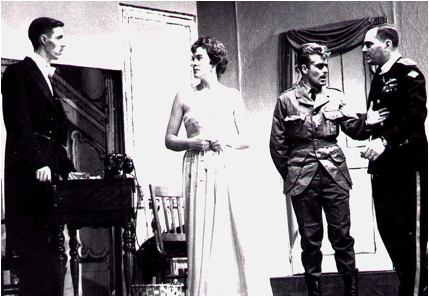 <![endif]>
Leo Burns, Tessa Gillard (playing ESSIE SEBASTIAN), Ron Bender and the actor whose name I don't know.
<![if !vml]>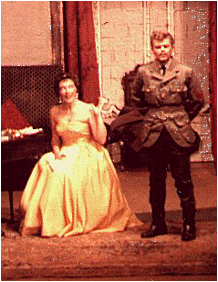 <![endif]>
Again, The Great Sebastions,_ Tessa and Ron Bender.
<![if !vml]>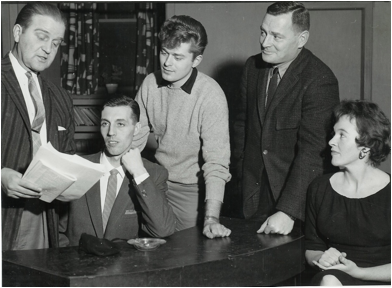 <![endif]>
An actor whose name I don't know Leo Burns, my God Father, Ron Bender (devilishly handsome isn't he?),
another actor whose name I don't know and Tessa Gillard.
TIME OUT FOR GINGER
<![if !vml]>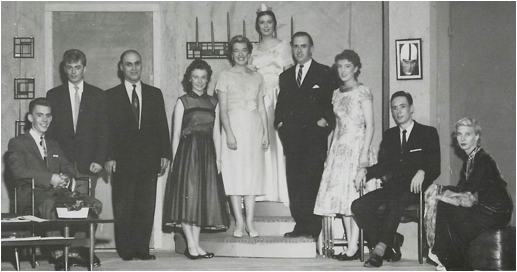 <![endif]>
RON BENDER:_ You may not realize this but your mother was about two months pregnant with you in this picture!
That's me second from the left. And that's when it was decided that I would be your godfather...Faerie or otherwise!
The guy 3rd from the left believe it or not was mayor of Kitchener. I believe his name was Harold Paiken.
_I was sweet on the girl in the crown...Beverley Reeve AND your mother of course!!_ (4th from the left)
RON BENDER
<![if !vml]>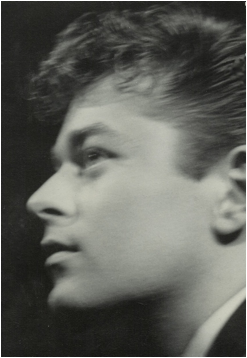 <![endif]>
TESSA GILLARD
| | |
| --- | --- |
| <![if !vml]><![endif]> | <![if !vml]><![endif]> |